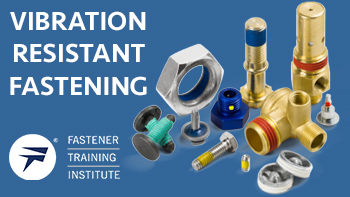 Vibration Resistant Fastening - Training Video
$225.00
$79.95 On Sale!
You Save
Vibration Resistant Fastening
90 Minute Training Video #111017-V
Fastener Failures can compromise even the best design.
A bolted joint can become compromised with unintentional loosening. In this interactive webinar, Vibration Resistant Fastening Systems, you will learn about fasteners and their features to resist vibration and stay tight within their joint.
Topics will include:
• Standard Lock Washers of all kinds
• Nylon Insert Lock Nuts
• All-Metal Locknuts
• Patch, pellet and strip
• Pre-applies locking compounds
• Self-applied compounds and anaerobics
• Special and proprietary lock washers
• Special thread forms
• Standard Jam Nuts
• Special and proprietary lock nuts and systems
• Safety wire and security devices
• The trickiest and slickiest of the self-locking fasteners
• YOUR special product – if you send me some information on it
• When should you use which of these solutions – The best strategies for keeping fasteners tight.
• Standards and test procedures for vibration resistant fastening
This an advanced technical topic, but will be presented at a level for all to understand. It is recommended to have your IFI Inch Fastener Standards book on hand for the webinar.
Pricing:
2-week rental – $225 (up to 25 views per video)
One-time view – $125
Includes reference materials and quizzes
Instructor: Carmen Vertullo CFS

• Founder of Carver Consulting, a San Diego-based consulting, engineering and training company specializing in fasteners and bolted joints.
• Experience in fastener quality assurance, manufacturing, sales, and inventory management programs.
• Developed and teaches a series of advanced fastener training courses for the Fastener Training Institute®.
• Holds a BS in Manufacturing Engineering Technology from National University, San Diego, CA.