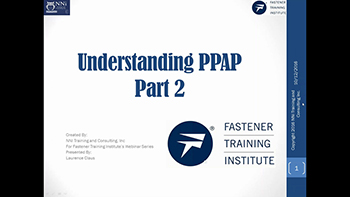 Understanding PPAP Part 2 - Training Video
$225.00
$79.95 On Sale!
You Save
Understanding PPAP Part 2
90 Minute Training Video #101216-V
Pre Production Approval Process – (PPAP) 2 Part Series
What is PPAP? What are the PPAP requirements? How does PPAP apply to my company as a fastener distributor or manufacturer?
Control Plans, Design Records, Process Flow Diagrams, PFMEA… do you know these terms?
Once primarily used for the automotive industry, more companies have adopted the PPAP practice in order to consistently provide high-quality products year after year and to maintain an advantage over the competition.
Whether you are familiar with the PPAP requirements, need a review or are new to PPAP altogether, this webinar is for you. Become proficient on the procedures, reporting requirements and activities specified by the PPAP manual.
Part 2 includes:
– The 18 Required Elements – A Detailed Perspective of What is Required
Who Should Attend?
This webinar is a must for personnel in sales, quality, inspection, purchasing and management. It is suitable for all levels of fastener experience.
Pricing:
2-week rental – $225 (up to 25 views per video)
One-time view – $125
Includes reference materials and quizzes
Laurence has over 30 years of experience in the fastener industry. Most of those years he worked with a leading automotive fastener manufacturer, holding roles of Application Engineer, Director of Engineering and Quality, Director of New Business Development, General Manager , and Vice President of Technology and Engineering. He is a degreed Mechanical Engineer with a broad knowledge of fasteners and special experience in materials, thread forming screws, and automated assembly of small parts. He has participated for many years in technical standards activity with the IFI, SAE, ISO, ASME, ASTM, and NASC. He is knowledgeable in the manufacture and use of automotive, industrial, and aerospace fasteners. Laurence is a certified Six Sigma Black belt. Most recently he formed NNi Training and Consulting, Inc., a consultancy company serving fastener manufacturers, distributors, and automotive suppliers.