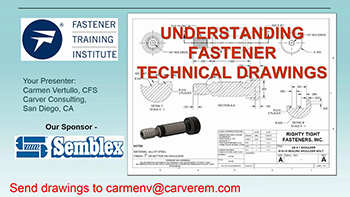 Understanding Fastener Technical Drawings - Training Video
$225.00
$79.95 On Sale!
You Save
Understanding Fastener Technical Drawings
90 Minute Training Video #032318-V
Customer fastener drawings and fastener specifications can be hard to understand if you do not have a solid knowledge of blue print reading.
Not knowing how to interpret a drawing detail can delay getting your product quoted, or worse – result in delays in receiving inspection and rejections.
This webinar will teach the fundamentals of drafting terminology and we will also go deep into examining actual fastener drawings and specifications – the good and the bad.
As an added bonus – send your fastener drawing or specification illustration to us in advance and we will explain it during the webinar.
Topics will include:
Where do fastener drawings come from?
Case Studies on problem drawings
Drafting terminology
Fastener Dimensional Tolerances – inch and metric
GD&T for fastener drawings
How to produce a professional looking fastener drawing
How to properly designate threads – Inch and Metric
Engineering and Manufacturing issues
Surface Finish (roughness) and methods used to produce them
Designating Plating and Coatings on drawings
Change Control and Configuration Management
Customer part numbers – a minefield if not properly used
What you can and cannot tell from a sample
Working with customers and vendors on drawing details
Computer Aided Design and Solid Modeling – it's not just for drawings
A good fastener drawing is often the only thing between parts and profits.
Stunningly good drawings can help you get and keep business you never had access to before.
Don't let the lack of a drawing hold up your sales opportunities!
This webinar is moderately technical but appropriate for those with all levels of experience in the fastener industry.
Pricing:
2-week rental – $225 (up to 25 views per video)
One-time view – $125
Includes reference materials and quizzes
Instructor: Carmen Vertullo CFS

• Founder of Carver Consulting, a San Diego-based consulting, engineering and training company specializing in fasteners and bolted joints.
• Experience in fastener quality assurance, manufacturing, sales, and inventory management programs.
• Developed and teaches a series of advanced fastener training courses for the Fastener Training Institute®.
• Holds a BS in Manufacturing Engineering Technology from National University, San Diego, CA.