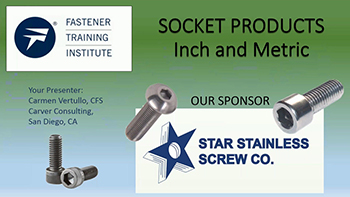 Socket Products - Training Video
$225.00
$79.95 On Sale!
You Save
Socket Products
90 Minute Training Video #042718-V
Sponsored by: Star Stainless Screw Co.



Socket Products – what you need to know to safely sell, use and process these high-strength, high precision fasteners
Socket Products are some of our most popular and profitable fastening products in our fastener arsenal.
The more you know about them the better you can serve your customers and realize the business opportunities with socket products.
Topics to include:
What's so special about socket screws?
Socket Products that are not traditional fasteners
Inch and Metric Socket Product Specifications
Proper tooling and tightening strategies for socket screwss
The differences between Commercial and Military/Aerospace socket screws
Secondary processing of Socket Screws – Risk Management Essentials
Why so many different kinds of socket set screws?
Dimensional Inspection and mechanical testing of Socket Screws
Identification of Socket Screws
This is a technical webinar but is appropriate for all levels of experience in the fastener industry.
Sales, purchasing, and quality assurance personnel should attend this webinar.
This is a good webinar to have your IFI 9th Edition Inch Fastener Standards Book open for.
Pricing:
2-week rental – $225 (up to 25 views per video)
One-time view – $125
Includes reference materials and quizzes
Instructor: Carmen Vertullo CFS

• Founder of Carver Consulting, a San Diego-based consulting, engineering and training company specializing in fasteners and bolted joints.
• Experience in fastener quality assurance, manufacturing, sales, and inventory management programs.
• Developed and teaches a series of advanced fastener training courses for the Fastener Training Institute®.
• Holds a BS in Manufacturing Engineering Technology from National University, San Diego, CA.