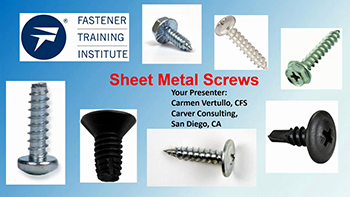 Sheet Metal Screws - Training Video
$225.00
$79.95 On Sale!
You Save
Sheet Metal Screws
90 Minute Training Video #011218-V
Ah, the lowly Sheet Metal Screw – not even a proper term for this most ubiquitous fastener in all of assemblydom!
If you are a fastener nerd, then you know the proper term is "Tapping Screw", but what else do you know – or not know – about holding sheet metal together with screws?
In this webinar we will explore the ins and outs of sheet metal screws, and there is more to know about sheet metal screws than you may think.
We will cover:
• Specifications – ASME B18.6.3 – where most tapping screws are born
• IFI 112 – Self Drilling Screws
• Metric Sheet Metal Screws
• Standard Thread Forms
• Proprietary Thread Forms
• Spaced Threads vs. Machine Screw Threads
• Point Styles
• Thread Cutting vs. Thread Forming
• Materials – there's more to steel and stainless
• Coatings and Platings
• Drives and Drivers
• Head Styles and Special Features
• Applications – when to use what kind of screw – and when not to
• Troubleshooting Sheet Metal Screw problems and failures
• Testing Sheet Metal Screws – anybody can do it!
• Installation Tips and Tricks
• Special Bonus – a few things to know about Wood Screws and Drywall Screws
This is a technical presentation, but very appropriate for all levels of experience in the fastener industry.
Pricing:
2-week rental – $225 (up to 25 views per video)
One-time view – $125
Includes reference materials and quizzes
Instructor: Carmen Vertullo CFS

• Founder of Carver Consulting, a San Diego-based consulting, engineering and training company specializing in fasteners and bolted joints.
• Experience in fastener quality assurance, manufacturing, sales, and inventory management programs.
• Developed and teaches a series of advanced fastener training courses for the Fastener Training Institute®.
• Holds a BS in Manufacturing Engineering Technology from National University, San Diego, CA.