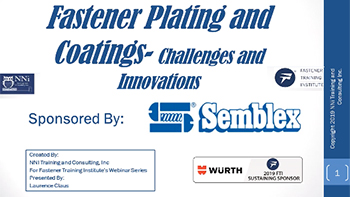 New Innovations in Fastener Platings and Coating - Training Video
$225.00
$79.95 On Sale!
You Save
New Innovations in Fastener and Coatings
90 Minute Training Video #081619-V
Sponsored by : Semblex -" Value Through Solutions"
Instructor: Laurence Claus
In this webinar we will cover:
Review of traditional plating and coatings
Common problems and challenges with fastener plating and coating

Why you should be using a fastener specific plating or coating specification rather than a general industry one

The "hexavalent Chromium conundrum"
Cadmium replacement
Current state-of-the-art in plating and coating
Pricing:
2-week rental – $225 (up to 25 views per video)
One-time view – $125
Includes reference materials and quizzes
Thank you to Semblex for sponsoring this webinar!
Instructor: Laurence Claus
Laurence has over 30 years of experience in the fastener industry. Most of those years he worked with a leading automotive fastener manufacturer, holding roles of Application Engineer, Director of Engineering and Quality, Director of New Business Development, General Manager , and Vice President of Technology and Engineering. He is a degreed Mechanical Engineer with a broad knowledge of fasteners and special experience in materials, thread forming screws, and automated assembly of small parts. He has participated for many years in technical standards activity with the IFI, SAE, ISO, ASME, ASTM, and NASC. He is knowledgeable in the manufacture and use of automotive, industrial, and aerospace fasteners. Laurence is a certified Six Sigma Black belt. Most recently he formed NNi Training and Consulting, Inc., a consultancy company serving fastener manufacturers, distributors, and automotive suppliers.