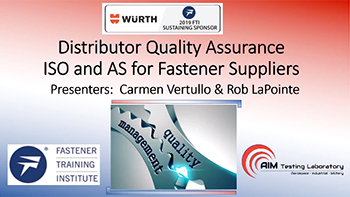 Distributor Quality Assurance and Intro to ISO - Training Video
$225.00
$79.95 On Sale!
You Save
Distributor Quality Assurance – An Intro to ISO and AS for Fastener Suppliers
90 Minute Training Video #0071919-V
In this webinar, Carmen and Rob will discuss how Quality Management Systems (QMS) can be customized and best serve fastener suppliers including manufacturers and distributors. Specifically, we'll explore how ISO 9001:2015 or AS9100 REV.D systems can best be developed and used to minimize risk and maximize customer satisfaction and net profit.
Don't have a Quality Management System? This webinar will cover how to develop a QMS that will fit the size and needs of your business.
This webinar is intended for directors or managers of all departments, as well as company executives. There will be some entry level material, but it's geared toward those that can influence implementing change in an existing QMS or help develop a new QMS.
Pricing:
2-week rental – $225 (up to 25 views per video)
One-time view – $125
Includes reference materials and quizzes
Instructors: Carmen Vertullo & Rob LaPointe – AIM Testing Laboratory