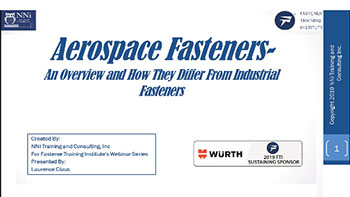 Aerospace Fasteners an Overview - Training Video
$225.00
$79.95 On Sale!
You Save
Aerospace Fasteners – An Overview and How they differ from the Industrial Fastener
90 Minute Training Video #062119-V
Topics of discussion in this webinar include:
What makes the aerospace fastener market unique from the industrial automotive fastener markets?

Size
Supply Chain/Model
Manufacturing Processes/Technology

What manufacturing expectations are on aerospace fastener products and suppliers
What quality expectations are on aerospace fastener products and suppliers
Introduction to NAS and AMS specifications
Understanding some of the unique requirements to become an aerospace fastener supplier
Introduction to standard aerospace hardware and where/how they are used
Pricing:
2-week rental – $225 (up to 25 views per video)
One-time view – $125
Includes reference materials and quizzes
Instructor: Laurence Claus
Laurence has over 30 years of experience in the fastener industry. Most of those years he worked with a leading automotive fastener manufacturer, holding roles of Application Engineer, Director of Engineering and Quality, Director of New Business Development, General Manager , and Vice President of Technology and Engineering. He is a degreed Mechanical Engineer with a broad knowledge of fasteners and special experience in materials, thread forming screws, and automated assembly of small parts. He has participated for many years in technical standards activity with the IFI, SAE, ISO, ASME, ASTM, and NASC. He is knowledgeable in the manufacture and use of automotive, industrial, and aerospace fasteners. Laurence is a certified Six Sigma Black belt. Most recently he formed NNi Training and Consulting, Inc., a consultancy company serving fastener manufacturers, distributors, and automotive suppliers.