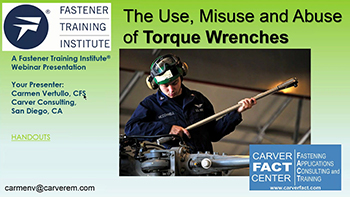 The Use, Misuse and Abuse of Torque Wrenches - Training Video
$225.00
$79.95 On Sale!
You Save
The Use, Misuse and Abuse of Torque Wrenches
90 Minute Training Video #101918-V
Torque control is not going away as a primary tightening strategy for fasteners.
From the smallest screw to the largest bolt, just knowing what the proper torque is will not result in proper tension unless the correct torque tool is used and it is used correctly.
Suppliers can solve a lot of fastener installation problems and bring great value-added information to their customers if they have a solid understanding of the proper use and selection of torque wrenches.
This webinar will cover:
What is the best torque tool for the job?
What is the latest technology in torque tools?
What are the most common torque wrench use errors?
I have heard that torque is not an accurate way to tighten a bolt -what's up with that?
How do torque wrench extensions work?
What about really, really small screws?
What about really, really big bolts?
Should I torque the bolt or the nut?
Should I lubricate the bolt or the nut?
What effect do washers have on the applied torque?
Do locknuts get torqued differently than plain nuts?
How do I determine the proper torque to apply?
What are the alternatives to torque as a tightening strategy?
What is the difference between torque and tension?
What are the best resources for understanding and determining the torque-tension relationship?
How to sell torque wrenches – are you selling them? If not why not?
What exactly is a Newton-meter?How nuts work (you probably don't know)
This is a technical webinar, but all information is appropriate for all positions and experience levels for anyone involved with threaded fasteners.

Pricing:
2-week rental – $225 (up to 25 views per video)
One-time view – $125
Instructor: Carmen Vertullo CFS

Founder of Carver Consulting, a San Diego-based consulting, engineering and training company specializing in fasteners and bolted joints.
Experience in fastener quality assurance, manufacturing, sales, and inventory management programs.
Developed and teaches a series of advanced fastener training courses for the Fastener Training Institute®.
Holds a BS in Manufacturing Engineering Technology from National University, San Diego, CA.