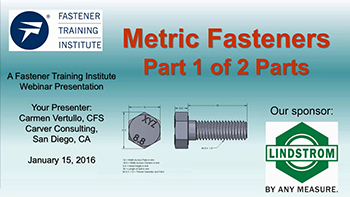 Metric Fasteners Part 1 - Training Video
$225.00
$125.00 On Sale!
You Save
Metric Fasteners Part 1
90 Minute Training Video #011516-V Price Includes Part 1 and Part 2
Sponsored by:

Do you know your megapascals from your microns? What's the difference between 4g6g and 6g?
This webinar will go deep into a few areas that are usually given light treatment in metric fastener training –
Topics will include:
• Metric Thread Specifications – where exactly do those numbers come from?
• What thread features to inspect and how to inspect them
• Understanding the metric tolerancing system
• What is required by ISO Metric Fastener Specifications – and what is not
• A summary of the most important ISO fastener standards
• A detailed comparison of Inch and Metric fastener specification
• How tight is right – for metric
• Obsolete and withdrawn Metric Fastener Specifications – What is in and what is out and what to do about it
• Speak with a metric accent – the math behind the meaning
• What's better about metric fasteners than inch fasteners – and what's not
• Are we ever going to go completely metric?
• Metric blueprints – a few things you need to know
• Metric Fastener Technical Resources – how to find out what you need to know.
This webinar is appropriate for all levels of technical understanding. Those new to metric fasteners will be challenged and
seasoned professionals will get a good refresher and learn a few things they did not know before.
Pricing:
2-week rental – $225 (up to 25 views per video)
Includes reference materials and quizzes
Instructor: Carmen Vertullo CFS

• Founder of Carver Consulting, a San Diego-based consulting, engineering and training company specializing in fasteners and bolted joints.
• Experience in fastener quality assurance, manufacturing, sales, and inventory management programs.
• Developed and teaches a series of advanced fastener training courses for the Fastener Training Institute®.
• Holds a BS in Manufacturing Engineering Technology from National University, San Diego, CA.