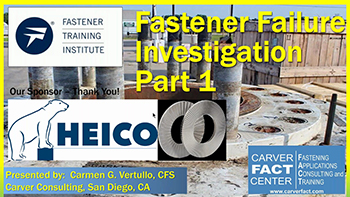 Fastener Failure Investigation Part 1 - Training Video
$225.00
$79.95 On Sale!
You Save
Fastener Failure Investigation Part 1
90 Minute Training Video #051917-V
Most fastener suppliers process thousands and thousands of sales transactions ever year.
It is inevitable that some of these will result in a "fastener failure" event.
They know how to process those sales transactions very well, but most do not know how to process the failure event.
How the supplier processes the failure can be the difference between keeping and losing a customer.
It can result in thousands of unnecessary dollars spent.
In part one of Fastener Failure Investigation we will lay the ground work for conducting a proper investigation and look at some case studies.
You will learn:
• Introduction to the Twelve Guidelines for Fastener Failure Investigation
• The most common errors and how they can ruin your investigation
• What your sales team must know when confronted with a failure complaint
• When a failed fastener is not a fastener failure
• What makes Fastener Failures different than other kinds of material failures
• How to organize your investigation
• What to do when it's your product, but not your investigation
• What exactly are you responsible for as a supplier
• The difference between failure investigation and failure analysis
• How to recognize the most common types of fracture surfaces
• When do you need a test lab and how to work with them
• A review of the some of the most spectacular fastener failures and why you should know about them
• A few simple case studies – including your own
The consequences of a fastener failure can be devastating to everyone involved.
Poor processing of a fastener failure can add to the problem by cost your company thousands of dollars and lost customers.
Proper processing can help you save your money and keep your customers.
This two part webinar can be the most important training your company sees – ever!
There is some technical content, but this program is appropriate for all members of your team regardless of their level of experience or position.
It is especially important for executives, sales, technical and quality personnel.
Pricing:
2-week rental – $225 (up to 25 views per video)
One-time view – $125
Includes reference materials and quizzes
Instructor: Carmen Vertullo CFS

• Founder of Carver Consulting, a San Diego-based consulting, engineering and training company specializing in fasteners and bolted joints.
• Experience in fastener quality assurance, manufacturing, sales, and inventory management programs.
• Developed and teaches a series of advanced fastener training courses for the Fastener Training Institute®.
• Holds a BS in Manufacturing Engineering Technology from National University, San Diego, CA.