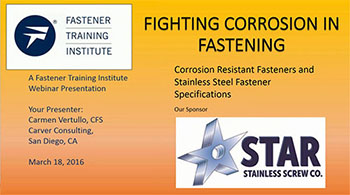 Corrosion Resistant Fasteners and Stainless Steel Fastener Specs - Training Video
$225.00
$79.95 On Sale!
You Save
Corrosion Resistant Fasteners & Stainless Steel Fastener Specs
90 Minute Training Video #031816-V
Sponsored by:

FIGHTING CORROSION IN FASTENING
Corrosion, and strategies to combat it, cost billions of dollars every year.
Industrial, transportation, construction, marine and military fastening application all have specific solutions to the corrosion problem.
This webinar will explore the various approaches to corrosion prevention in each of these areas.
We will cover:
• Who uses what solutions and why
• When to use what kinds of corrosion resistant materials
• Understanding the various stainless steel fastener specifications
• When is plating the appropriate strategy – and when is it not
• What is the latest information on plating and coating specifications
• Dips spin coatings –their strengths and limitations
• Non-ferrous corrosion resistant fastener materials
• Rating fastener materials and coatings for corrosion resistance
• How to properly and safely advise your customers on materials and coatings for corrosion resistance
• What gets us into trouble when it comes to corrosion
• What to do when a NACE certification is asked for
This is a non-technical presentation and is appropriate for all levels.
Seasoned fastener professionals will benefit from gaining knowledge on the latest trends standards and those new to the industry will gain much needed insight into one of the most important but misunderstood areas of fastener applications technology.
Pricing:
2-week rental – $225 (up to 25 views per video)
One-time view – $125
Includes reference materials and quizzes

Instructor: Carmen Vertullo CFS
• Founder of Carver Consulting, a San Diego-based consulting, engineering and training company specializing in fasteners and bolted joints.
• Experience in fastener quality assurance, manufacturing, sales, and inventory management programs.
• Developed and teaches a series of advanced fastener training courses for the Fastener Training Institute®.
• Holds a BS in Manufacturing Engineering Technology from National University, San Diego, CA.